RISE UP & RAISE HOPE – IAHD's 2021 Annual Awards
June 10, 2021 @ 7:00 pm - 8:30 pm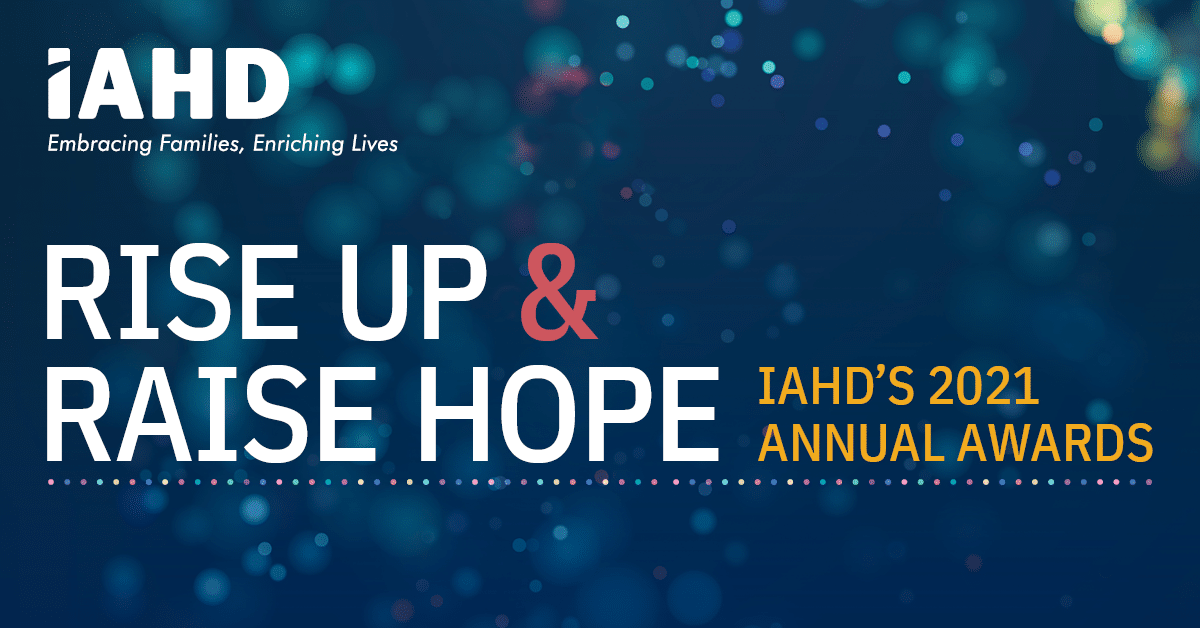 RISE UP & RAISE HOPE
IAHD'S 2021 ANNUAL AWARDS
visit the
For over 50 years, The Institutes of Applied Human Dynamics, Inc. (IAHD) has hosted its Annual Awards fundraising event to recognize individuals and organizations that have contributed to supporting people with Intellectual and Developmental Disabilities, and other humanitarian causes.
This year's event RISE UP & RAISE HOPE will be held on
Thursday, June 10, 2021 at The Cutting Room in New York City
and will feature a live-stream broadcast of musical performances by some of
Broadway and the Grammy's brightest stars.
JOIN THE CELEBRATION
JOIN US in-person for dinner and the live show at The Cutting Room NYC
OR
JOIN US in-person for dinner and a private viewing party at an off-site location
OR
JOIN US on-line within the "live audience" of the broadcast program
OR
JOIN US RIGHT HERE to enjoy the show from the comfort of your own living room,
or anywhere else
Regardless of HOW you join us, you'll be in for an evening of award-winning talent and an opportunity to honor our 2021 Award Recipients for their generous and benevolent contributions to the community of families IAHD supports, our mission to enrich lives, and for inspiring others to create more of the GOOD that we wish to see in our world.
Let's RISE UP & RAISE HOPE!!!
IAHD's 2021 Award Honorees
Corporate Excellence: Trooper Foods
Lifetime Achievement: Phillip Kiamie, Sr.
Distinguished Humanitarian: Liz Lonergan, Retired, OPWDD DDRO Region 4 Bronx, Director of Community Services
Lifetime Leadership: AHRC New York City
Historically, this event attracted nearly 300 business leaders and decision-makers in the private and public sectors from the greater NY metro area, providing key opportunities for like-minded individuals and organizations to connect: customers and potential customers from the Bronx and Westchester counties, and beyond.
However, as a result of the pandemic, we've gone "VIRTUAL" which allows us to share this exciting celebration on the internet, reaching an audience far beyond our initial 300 guests. Add to that an increase in vaccinations and the ease of Covid restrictions, IAHD is incredibly grateful to offer all our guests & viewers LIVE MUSIC once again –
we will have much to celebrate!!!
RISE UP & RAISE HOPE, IAHD's 2021 Annual Awards
will provide a variety of ways to participate in this year's event. A Silent Auction, Destination Raffle, Advertising, Sponsorship and Underwriting opportunities will assist IAHD to raise funds to continue our mission to provide a holistic, lifetime empowering approach for each individual to ensure they reach their full potential and live a fulfilled life on their terms!
Contributors have confidence knowing their gift will make a BIG IMPACT in the lives of others because
91cents of every dollar goes directly into programs and services. That's GOOD.
For sponsorship and ticket information: https://iahd2021awards.givesmart.com,
or contact Amy King: 914.220.4390 or aking@iahdny.org.

Sorry, we couldn't find any events.